In Texas, the cost of a divorce lawyer is between $130 and $415 per hour. Average total costs for lawyers range from $3,000 to $15,600 but are significantly lower in cases with no contested issues.
The cost of divorce in Texas if it is uncontested is:
A little over $300 if you choose a DIY approach.
Closer to $500 if you use online services.
About $1,000-$3,000 with a consulting lawyer.
Around $3,500-$5,000 with a family attorney.
The average cost of a divorce if it is contested depends on various factors, such as your family situation and the experience of your attorney. Even your lawyer may find it hard to provide you with an estimate, as the range is in the thousands.
Divorce Attorney Fees in Texas
Average lawyer fees for a divorce in the state are approximately $300 hourly. However, divorce lawyers in Texas will have different rates depending on:
In big cities and counties, divorce lawyer cost per hour and legal services in general are usually higher than in smaller ones. On the other hand, there are more professionals to be chosen from in the big city.
Type of case. Having decided to end your marriage, you need to understand whether your spouse will contest this decision or the decisions you put forward in the paperwork.
If you managed to come to an agreement with your ex, you can file for uncontested dissolution. In this case, you may hire a consulting lawyer to discuss some aspects of your case and complete the paperwork.
This might cost you roughly $200 per hour, which is far less expensive than working with an attorney throughout all the phases. As an alternative, you can handle the divorce on your own.
If there is no agreement and your spouse will contest your decisions, you will need full-fledged support of your lawyer. A family attorney will charge significantly more for a contested case, starting at around $300 per hour.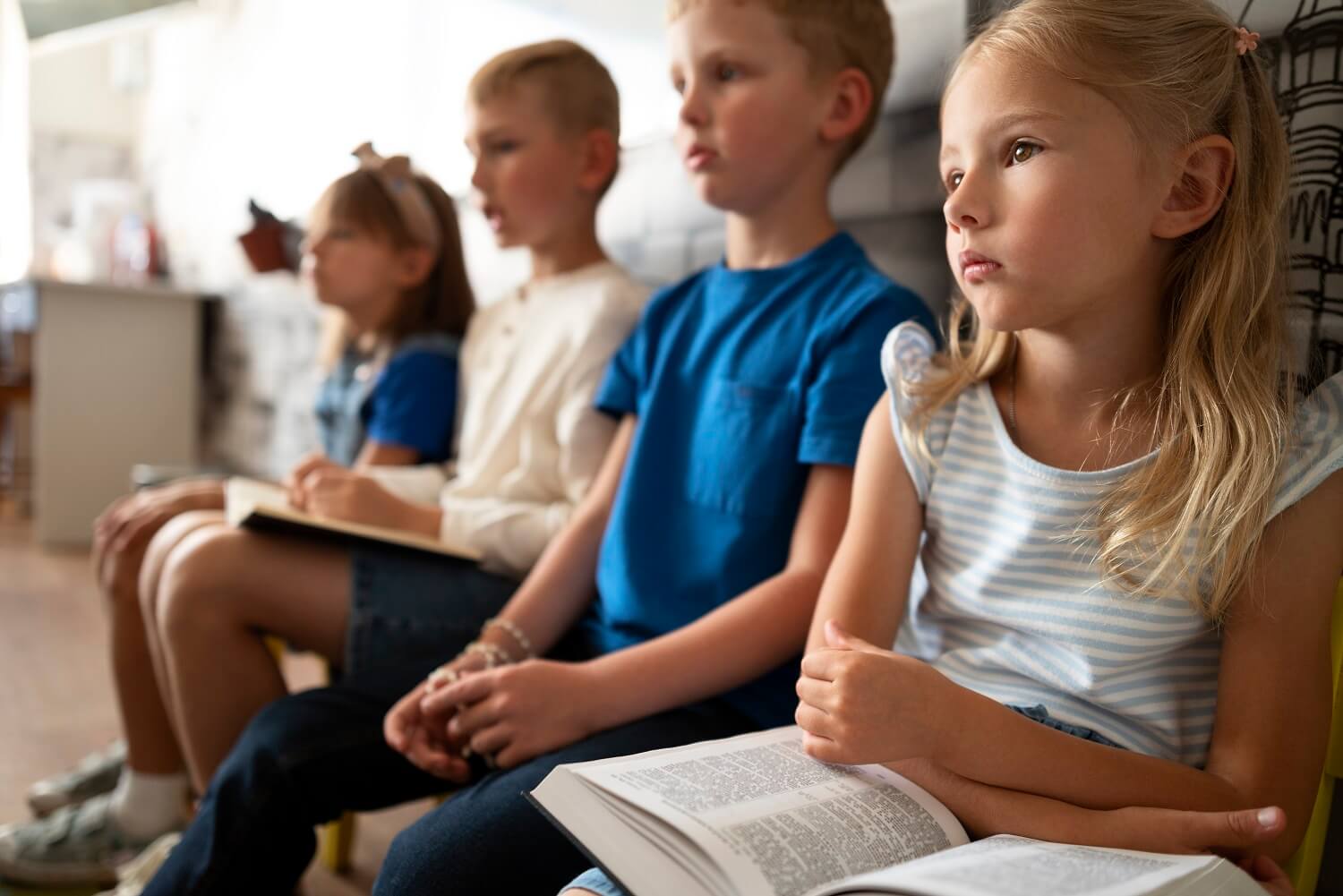 Minor children. If you have children and cannot agree on custody or child support amount, you should be ready for long and stressful custody battles. The cost of contested divorce with custody issues is more than $23,500 in Texas. As the court and your lawyer might have to involve experts on custody and childcare, the costs will rise exponentially as the proceedings go on.
Fault grounds. In Texas, you can file either for a no-fault or fault-based divorce. If you cannot or do not want to blame your ex-spouse for any marital misconduct, you can file on no-fault grounds stating that your marriage is unsupportable.
However, if you choose to file based on fault grounds, it will have some implications on the lawyer's fees and services. Any fault, be it adultery or abandonment, has to be proved in court. A lawyer will have to gather and process all the evidence and present it in court to show that the ground you claim is solid. Of course, it will increase the overall costs.
Lawyer's experience. You can always choose to work with a newbie in the family law field or a recent law school graduate in order to save money. Such attorneys usually have a minimum hourly rate of $100-200. Nevertheless, many couples prefer working with experienced professionals who can increase their chances to "win." Therefore, hourly rates of such lawyers can exceed $400-500.
Property and debt division. The more assets or debts you have, the higher the lawyer's fee. Texas courts follow community property laws and divide the assets and debts you acquired together with your spouse when you were married equally between you.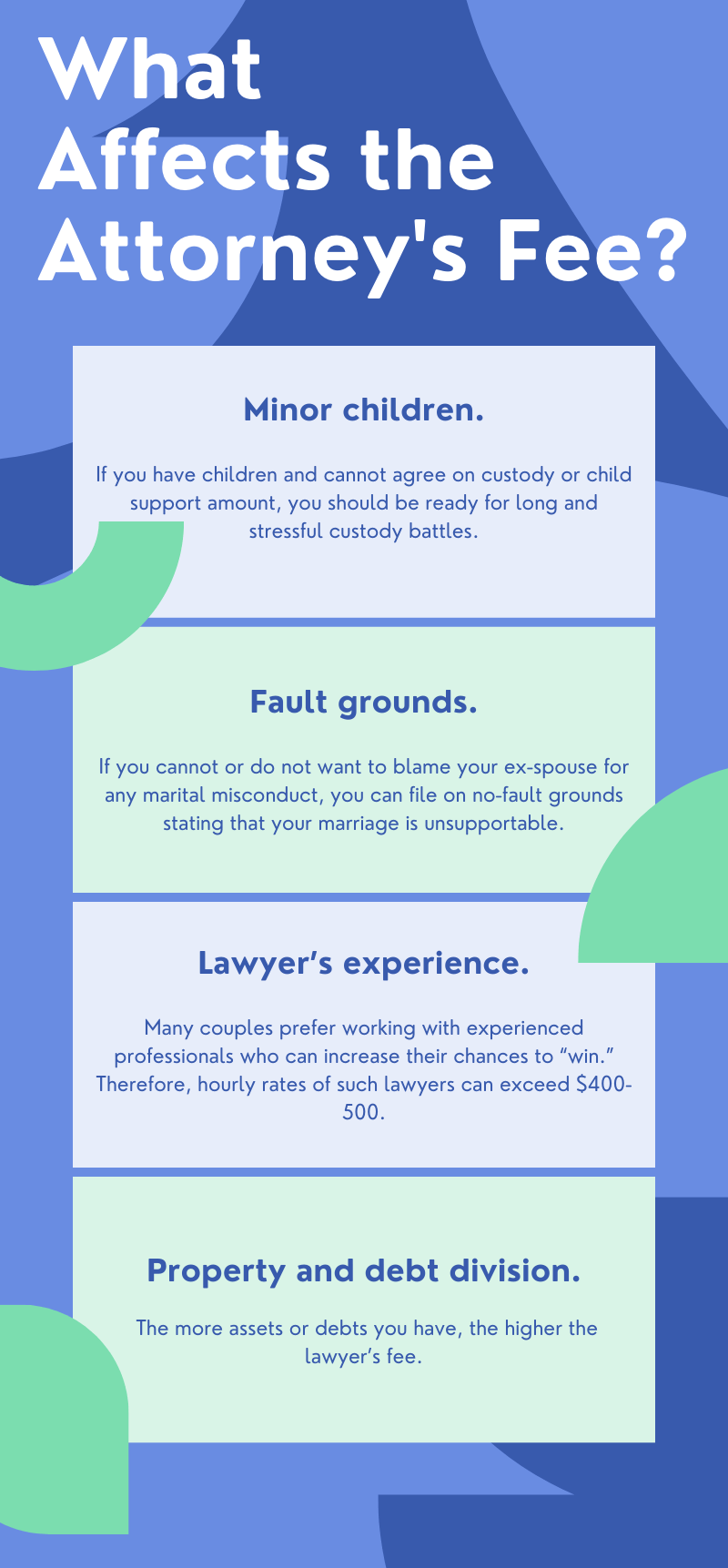 As there are various exceptions to what can be considered marital property, your or your spouse's lawyer might spend countless hours trying to prove that a specific item should or shouldn't be considered as such. If you're filing on fault grounds or have children, it might also be considered during the division.
Requests for alimony, temporary orders, or discovery will increase the overall costs but not necessarily the lawyer's hourly rates. Ask your lawyer to list things they would charge you extra for and what their hourly fees are based on before you start working with them.
Lawyer's retainer
It is a common practice for Texas lawyers to charge their clients a fixed amount of money as a guarantee that they will continue working together. Such fee is called a retainer and is used to cover lawyer's services and some of the expenses they incur when working on your case. The amount for the retainer ranges from $2,500 to $15,000 if the situation is rather complicated. You will discuss this aspect with your lawyer during your first meeting.
Divorce Lawyer in Houston TX
On average, divorce attorneys in Houston charge $300 per hour. However, the Houston divorce attorney fee can be higher depending on the professional's experience or the specifics of your case. For example, if your divorce with no children and property, and there is a settlement, your flat fee may start from $850, excluding the filing fees. The minimal cost for a contested case is $15,000.
Divorce Lawyer in Dallas TX
Divorce lawyer prices in Dallas range from $200 to $500 an hour. If your case is uncontested with no children and assets or debts to divide, you will be charged approximately $225 hourly. If you have children and property, the hourly rate will likely be closer to $475. The average price of a contested divorce is $12,950.
Divorce Lawyer in Fort Worth
Divorce lawyers' costs in Fort Worth, TX, range from $175 to $325 per hour. However, this amount can be lower or even higher depending on the factors described above. The flat fee for an uncontested divorce with no assets or kids is between $500-$1000, excluding the filing fees.
| City | Services | Cost |
| --- | --- | --- |
| Houston TX | Average divorce attorney fee | $300 per hour |
| Houston TX | Flat fee for uncontested case (no children, property) | Starting from $850 (excluding filing fees) |
| Houston TX | Minimal cost for contested case | $15,000 |
| Dallas TX | Divorce lawyer prices | $200-$500 per hour |
| Dallas TX | Uncontested case (no children, assets) | Approximately $225 per hour |
| Dallas TX | Uncontested case (with children, property) | Closer to $475 per hour |
| Dallas TX | Average price of contested divorce | $12,950 |
| Fort Worth | Divorce lawyers' costs | $175-$325 per hour |
| Fort Worth | Flat fee for uncontested case (no assets, children) | $500-$1,000 (excluding filing fees) |
Cost of Getting a Divorce in Texas Without a Lawyer
If you are looking to get a cheap divorce in Texas, working with a reliable online divorce provider is the best solution! Our company has been helping thousands of couples to get their marriage dissolution quickly and affordably for more than 12 years.
Here are the benefits of working with us:
Flat fee. We have a fixed price of $139, regardless of whether you have children, property, or debts.
Easy process. All you have to do is complete a simple questionnaire, which takes around 20 minutes and includes tips to help you on the way.
Fast delivery. As soon as you fill in the questionnaire, expect your documents in just 5 days or quicker if you upgrade your package!
Court-approved packet. All our forms are up-to-date and legal. Thousands of clients file them every year.
Filing instructions. You will receive a guide on what to do with each of your forms and how to finalize your divorce.
You can get a complete package of filled-out divorce documents from us for a small fee and file for divorce without a lawyer by following our instructions. It will only be necessary to pay the filing costs in court, which will be $300 or less depending on your county.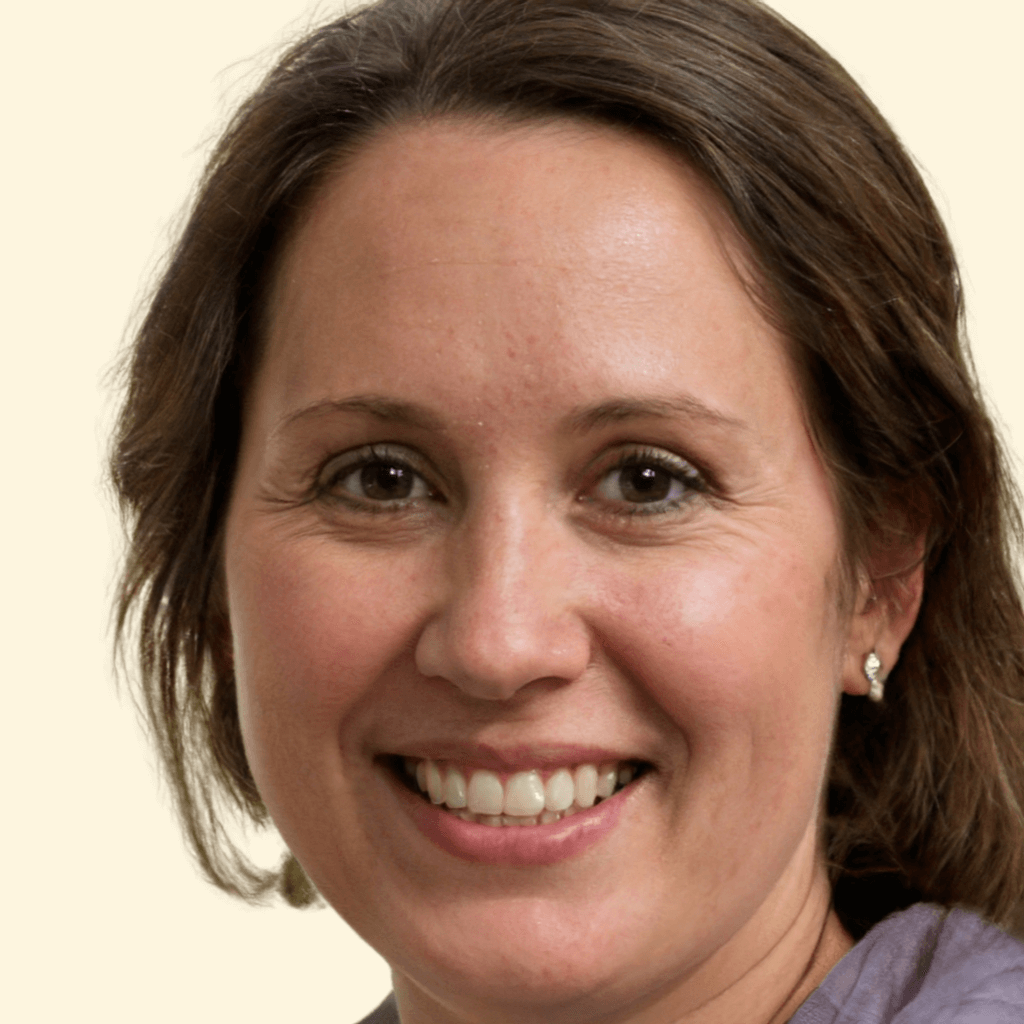 Erin Bensen is a relationship expert and a writer known for her articles on love and marriage. Being a paralegal, she also writes about divorce and the procedures around it. Erin regularly contributes to Modern Love Counseling and other divorce blogs, offering practical advice and support. Right now, Erin is working on her personal podcast, where she intends to discuss the complexities of relationships and help couples considering divorce.